Irish National Youth Ballet is the premier youth ballet company in Ireland. Funded by the Arts Council, the company aims to give the best young dancers in Ireland the opportunity to train with brilliant teachers and choreographers and to perform in exciting semi-professional productions throughout the year.
INYB is a performance-based company. The work we do is an advanced supplement to the dancers' existing ballet training which may be more exam focused. Working with internationally trained teachers, all of whom have had professional dance careers, young dancers get to experience world-class training at home. Guest choreographers are invited to develop work for the company to enhance the dancers' experience.
Many of our former members have gone on to professional training overseas (as there is no option for those wishing to pursue a career in ballet to train in Ireland). Having the performance experience with INYB can really help those dancers when it comes to auditions for further training.
We have 2 performance seasons per year – Christmas and Spring. The shows are produced to the highest standards with amazing costumes, lighting design and staging. We are also invited to perform at festivals, special events and have a number of exciting collaborations each year.
INYB has dancers from all over Ireland. Dancers from age 10 – 20 can join the company through a competitive audition process. Dancers in the Junior company are aged from 10-15 and from 16 upwards dancers work with the senior company. The INYB trains in central Dublin every Saturday during term times and we also do intensive training during half-terms and Easter holidays in the run up to performances.
Excellent and enriching experience for any young dancer.
Fabulous work and wonderful experience seeing their shows.
Amazing talent for such young dancers. The performances are amazing.
A chance for young dancers, including boys, to perform to a high standard.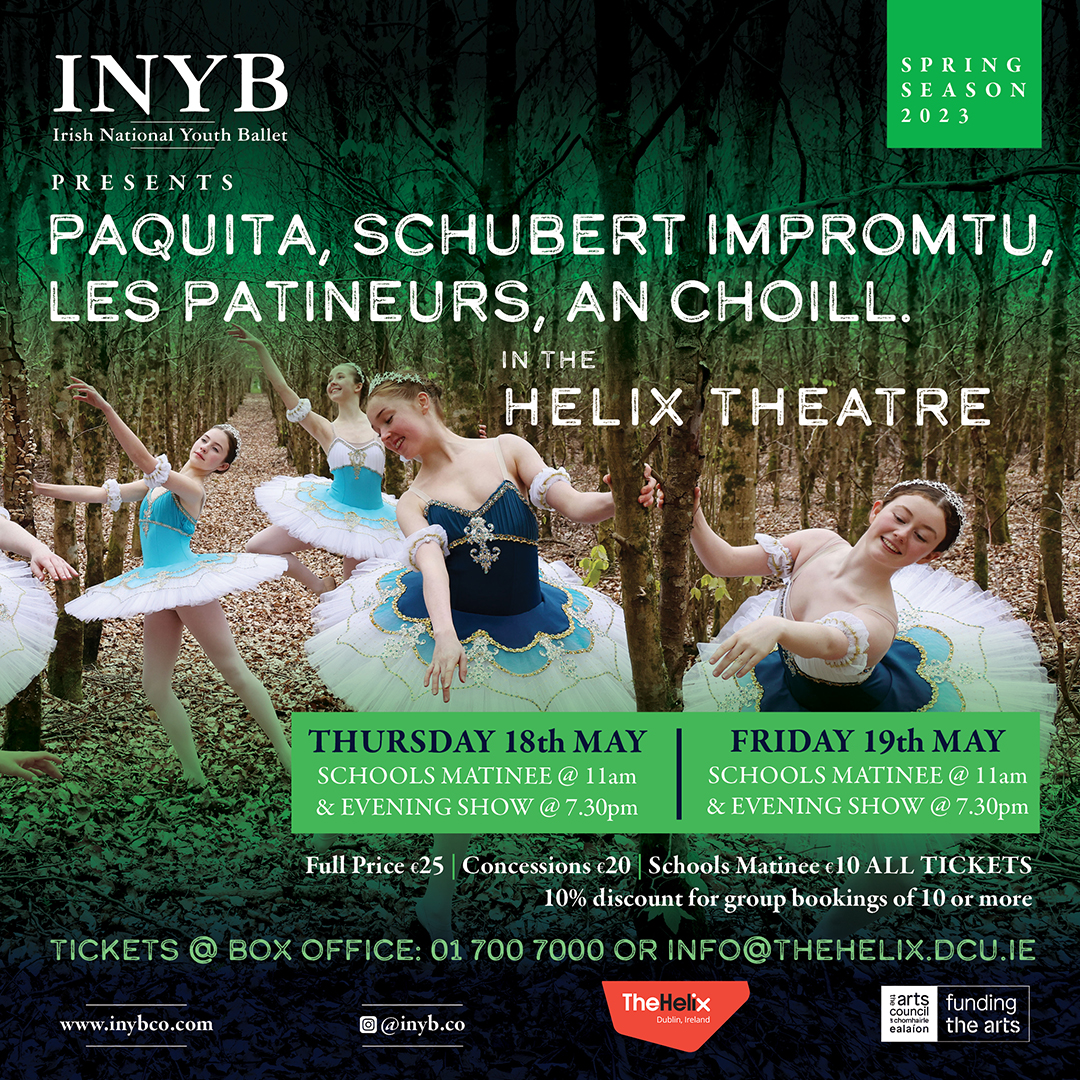 INYB
's Spring Season presents an exciting quadruple bill. 
Take a journey through the ages of ballet from the classics of 'Paquita' and 'Les Patineurs' to the neo classical piece 'Schubert Impromtu' created in the 1970's for the Irish National Ballet and on to a newly commissioned piece by choreographer Nathan Cornwell entitled 'An Choill' which embodies the ever changing genre of ballet as it exists today.